In 1920 Natale and Ida Marmorini arrived from Arezzo in Tuscany and settled in La Trinité where they opened a marble, mosaic and "granito" factory. "Granito" is a mixture of coloured concrete and marble, moulded and pressed into very bright coloured tiles. Natale's personality and education allowed him to become quickly integrated in Nice.
The business was working well despite a complex period of history in the 1950s. The Niçoise clientele of the inter-war period appreciated the products of the company « Carrelages Marmorini ».  in full reconstruction. The family, made up of 7 children, held up well despite difficulties and the complicated times.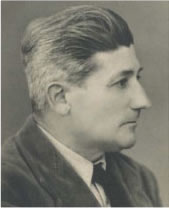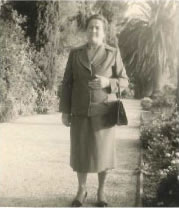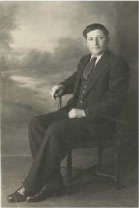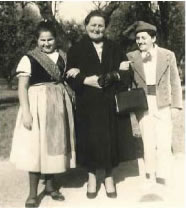 Natale was deeply affected by the deaths of his eldest sons, Vasco and Yves and he passed away in 1955 at the age of 60. His last son, Joseph, was old enough to take over the business. Yvette and Joséphine, his youngest daughters, were too young to take any decisions but were already working in the factory.
The factory became a limited liability company (SARL) and was directed by Joseph Marmorini from 1955 to 1978.
1960 was a year of intensive real estate construction. From 1961 onwards, factories became professional and were in full development. The company seized this opportunity to stop manufacturing and to organise the sale of ceramics. With its Italian roots and its expertise in stone, Carrelages Marmorini bought different types of marble, mosaics and enamelled ceramics from the major Italian manufacturers, thus allowing it to offer to the people of Nice the diversity, the originality and the novelty that they clamoured for in the nineteen-sixties.
That same year, Laurent Scaramozzino, originating from the south of Italy, settled on the Boulevard de l'Ariane. He bought the Carcimos "granitos" factory and transformed it into a tile trading company.
Complementary, rather than in competition, the two companies coexisted. Laurent Scaramozzino had good business sense and the company practised a building-site policy and sold a lot. The products were of good quality but were more popular, more accessible, whereas those of the Marmorini company reflect a love of beauty, a feeling for decoration, a high standard of quality and the seriousness of its after-sales service. The products are more upmarket, trendy and designer. Marmorini encourages loyalty and has a family-like relationship with its clientele, the family by blood or by heart is everywhere.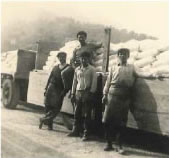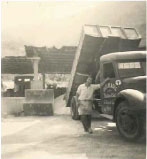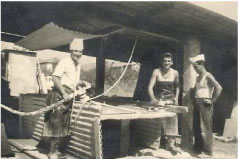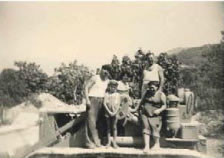 In 1978, the two sisters, Joséphine and Yvette, already present in the company, joined the company's management. The management was entrusted to Joséphine Marmorini, now Arnulf, who kept this position until 2009.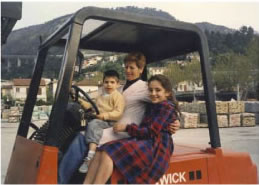 Céline, Joséphine's only daughter, had been bathed in the history of the family, the factory and stone since her early years. She wanted to perpetuate the family traditions and prepared for this by attending business school, by training in Bologna at Ragno Marazzi, leader in Italian ceramics, and later in a stone quarry in Rome with the Conversi family.  She learnt flexibility, the Italian deco approach and how to have exchanges with an international and cosmopolitan clientele. She even satisfied her love of stone and craftsmanship by preparing a stonemason's professional diploma.
In 2002 she joined the family business and quickly put into practice everything she had learnt. A new wind began to blow in the Marmorini company, already 71 years old. Despite her achievements, Céline dreamed of flying on her own and watched out for an opportunity. In 2005 Céline Arnulf bought the Scaramozzino company with the challenge of relaunching this sleeping beauty. Three years later, thanks to a solid, motivated team, the company revived.
In 2009, Joséphine Arnulf Marmorini acquired all the shares in Marmorini and became its CEO. A merger with Scaramozzino, managed by her daughter, Céline Valentini Arnulf, seemed obvious.
The two companies merged and a new era began. Diversification, multiplication of the sales outlets, expansion of the clientele, with the mutual values of quality, expertise and design.
To enable this newly created brand to express itself fully, a new identity was decided upon: Carrelages Marmorini became Marmorini Design. A new logo, new language, new brand territory: an image based on professionalism, experience, know-how and expertise with its own vision of service and hospitality.
Philippe Valentini left his tiling and stone-laying company to join the family. His field experience and professional vision were an obvious asset.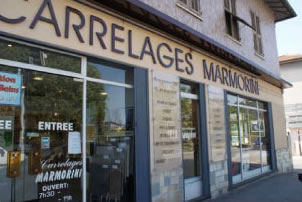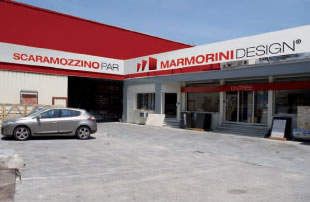 After 10 years, renewal time has come. A new name, a new logo, a new visual identity, a new site, new brand language and the launch of a an online magazine: 2019 sets the tone  for a new page of history, one that pays tribute to all those years in which the staff and the clients were – and still are – part of the family.
A company and a brand where you feel at home. A family that loves beautiful things but even more feeling good at home; a brand that advocates quality, rigour, know-how, innovation and high-end products. An identity that allows the DNA of the brand to be fully expressed.
Maison Marmorini has always reinvented itself to meet the expectations of a constantly evolving market. Whether Art deco, Haussmann, the real estate boom, consumerism or designer trends, the company has always adapted and continues in this dynamic.
Céline Valentini Arnulf, 3rd generation, initiated this repositioning, faithful to the perpetual challenges of the brand faced with new market trends and professional and individual consumer demand.